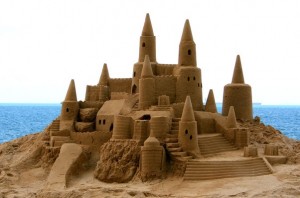 North Padre Island, just off the coast of Corpus Christi is a barrier island off the coast of Texas. With mild winters and the warm water of the Gulf of Mexico as a playground, residents and visitors alike enjoy a laid-back beach lifestyle with a whole lot of Texas attitude.
The crown jewel of the area is the Padre Island National Seashore, is 70 miles of beach and protected shoreline designated as a US Park. Unspoiled and pristine dunes are home to more than 380 varieties of migratory birds, and wildlife abounds. As a barrier island, the West side is bordered by the Laguna Madre. The Laguna Madre, which is Spanish for "Mother Lagoon," is home to a beautiful diversity in wildlife, vegetation, and unique habitats. With steady winds and mild weather, the Laguna Madre is a favorite spot for windsurfers and parasurfers alike. Fisherman enjoy a protected launch from Bird Island Basin, with ample parking for boats and trailers. The east side of the island is bordered by the Gulf of Mexico, with sand beaches and miles of shells.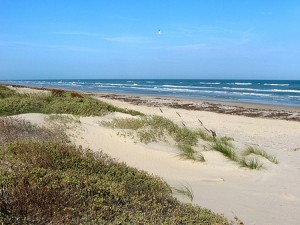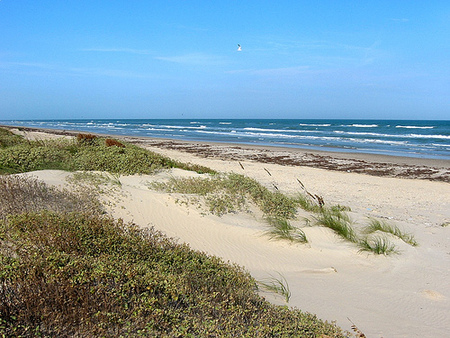 Visitors enjoy the Malaquite Visitors Center, open year round offering great educational opportunities for visitors about the history of the area, and it's most significant concern, the Kemp's ridley sea turtle, the most endangered sea turtle species in the world, which nests on the beach from late April through mid-July.The National Seashore is also one of the few places people can see newly hatched Kemp's ridleys released into the wild. Vehicle access to Malaquite Beach is limited on PINS, so plan a short walk from the Visitors Center down a boardwalk to enjoy the main beach. Vehicle access is available on PINS "North Beach" – but 4×4 vehicles are generally suggested. With a small fee to enter the park, paid either annually or as a day-pass, crowds to PINS are generally less than the open beaches of Padre Island. A beach parking sticker is required for the main beaches on Padre Island, which include those near Bob Hall Pier, at the Seawall, next to Packery Channel, and into Mustang Island and Port Aransas.
Surfing is a popular pastime on the Island, with a few shops that rent and sell equipment, and even provide lessons. Whatever beach you choose to visit, be sure that you adhere to a few simple rules. First, be sure and have a parking sticker; fines are as much as $250 if you're ticketed. No glass is allowed on any beach areas and open fires (bonfires) are subject to seasonal bans – be sure and plan in advance. Lifeguard stations are also seasonal with hours that vary from week to week. Be sure and check the boards as you enter the beach for specific information. Driving on the beach is allowed, but be sure and obey all traffic signs and speed limits and watch out for pedestrians!
We think you'll agree, North Padre Island has some of the most accessible, natural and friendly beaches anywhere in the world. Come Coast Awhile!