ATTN 5/9: NEW INFO ON SCHLITTERBAHN (CLICK HERE)
PROPOSED BRIDGE LAYOUTS BELOW PRESS RELEASE
CITY TO HOLD PUBLIC MEETING REGARDING PARK ROAD 22
AND PROPOSED BRIDGE AND CANAL
The City of Corpus Christi is conducting a public meeting on Tuesday, April 10, from 5:00 pm – 8:00 pm, at the Seashore Learning Center, 15801 S. Padre Island Drive, to receive input from the public regarding the construction of a proposed bridge and canal on Park Road 22. The impacted area is a little longer than one mile with limits between Whitecap Blvd and Commodores. The purpose of the project is to support the effort to provide boat and pedestrian access to the area. In addition, the project is expected to greatly improve the quality of the water in the existing canal system through water exchange with Lake Padre.
The proposed project will raise the existing roadway approximately 14 feet with the construction of a bridge so as to accommodate boats passing through the proposed channel. No other roadway improvements are proposed, no new right-of-way is proposed and no residential or commercial displacements will occur as a result of this project. "This is a win/win for local residents and visitors", said Dan Biles, PE, Interim Engineering Director.  "It will keep the water in the canals cleaner and will soon allow recreational boats to access the area. It's a big step towards our goal of transforming the Mustang-Padre Island area into a world-renowned tourist, resort and residential community," continued Biles.
The City encourages area residents to attend the meeting, to review the materials displayed and to comment about the project. If someone is not able to attend, he/she can still comment on the project by sending comments to Mary Kelly PE, c/o Raba Kistner Environmental, Inc., 12821 W. Golden Lane, San Antonio, Texas 78249. You may also submit comments by fax (210) 699-6426, or by e-mail mkelly@rkci.com. All comments received through Friday, April 20, 2012, will be used in the public record.
PHOTOS OF PROPOSED PARK ROAD 22 BRIDGE on NORTH PADRE ISLAND:
Figure 1 of the Proposed Layout:
Figure 1 – Project Location Map(PDF)
Figure 2 of the Propose Layout: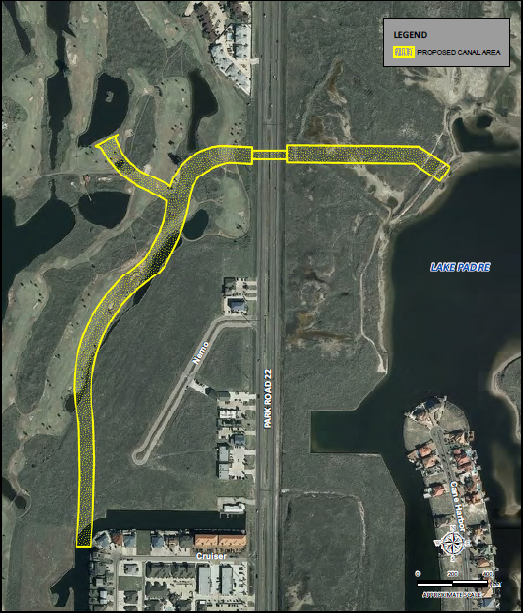 Photos Courtesy of:
Raba Kirstner Environmental Firm
12821 West Golden Lane
San Antonio, Texas 78249
P 210 :: 699 :: 9090
F 210 :: 699 :: 6426
http://www.rkci.com