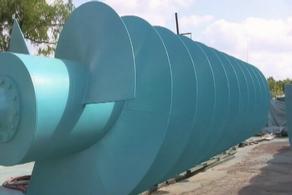 Schlitterbahn is still scheduled to open on the Padre Island next summer, but you wouldn't know it by passing by the park site. That's because a lot of construction is being done in New Braunfels.
Just behind what will be the main entrance on Padre Island, construction crews are working on a pool. They're building small huts, while at the clubhouse just across from it, construction is planned soon.
"There's a crew that will be working at this building, they're going to start refurbishing this building," said General Manger Stan Hulse.
170 miles away though, in New Braunfels, screw pumps able to push 36,000 gallons of water are already built and ready to ship. So is a large butterfly for the children's park and dozens and dozens of segments that will be put together for all those Schlitterbahn-famous slides!
The next step is shipping them here.
"Its such a huge endeavor that it's already been the subject of a couple of episodes of Shipping Wars," said Huse.
Yes, we could see those parts on national TV, although, that is still in the works.
Once the parts are shipped to Corpus Christi the park will come together rather quickly.
"It will almost look like its going up overnight," Hulse said.
There's no date set for putting together those components yet, but we're told right now, the park is on schedule and we should see Schlitterbahn open its doors by Summer 2014.
via KRIS TV