LATEST SCHLITTER NEWS January 2015 (Click Here)
May 20th, 2014 – "NEW PLANS with Map" Update
(Click Here)
May 30th, 2013 – "NEW MAP" Update
(Click Here)
Latest NEWS May 22, 2012 –
CITY Council Unanimously Votes in Favor of Incentive Package!!
The 2 Items remaining before the Project will begin is Contract Signings and Private Financing to begin breaking ground by June 2012.
Stay Tuned….As we will continue to Update you on the Status of the Island's First MAJOR Project!!
117 Million Dollar Incentive Package Revealed at Latest City Council Meeting

:

VOTE WILL BE FINALIZED at the Council Meeting on May 22nd, 2012.

NEW MAP Laying out all DISTRICTS for the proposed Padre Island Development (CLICK HERE)

REVISED PROPOSED TAX INCENTIVES: (CLICK HERE For the Legal Document Layout out the incentives)

SCHLITTERBAHN Corpus Christi – Performance Based Incentive Plan (PDF-CLICK HERE)

CITY COUNCIL answers all the citizens Questions and Concerns (FAQ's CLICK HERE)

PROPOSED TAX INCENTIVES:

Economic development sales tax: $5 million

Property tax: $20.6 million

Waived development fees: $1.4 million

City sales taxes: $11.5 million

Hotel occupancy tax: $78 million

Local construction tax: $699,000

Total: $117 million

Source: City of Corpus Christi

BY THE NUMBERS:

2 years of Schlitterbahn construction on North Padre Island.

Number of Jobs Created Locally – 40 full-time and 300 part-time Employees Recruited.

400 -Feet in the buffer zone between Schlitterbahn and property line neighborhoods.

25 years – Terms of agreement

18 years – Expected resort project build-out

574 Total acreage for entire Resort Project

$117 million -Public investment

$552 million – Private investment

Source: City of Corpus Christi

Tuesday April 10th, 2012 from 5-8pm at the Seashore Learning Center at 15801 SPID. Regarding Park Road 22 bridge and canal construction project. The public meeting will be conducted in an Open House format with a variety of materials available for viewing. Study team members will be available to discuss issues and an answer questions regarding the proposed improvements and environmental process. Mark you calendars!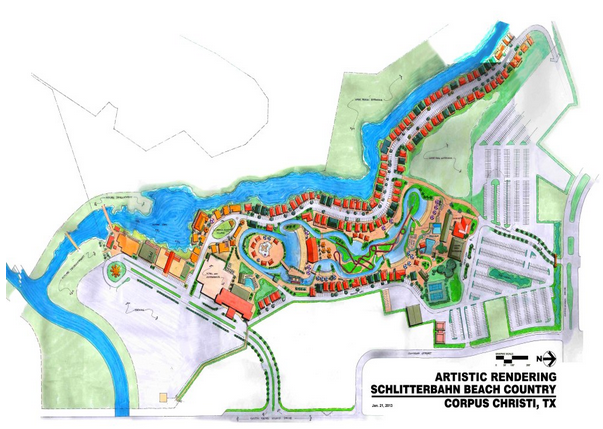 We are thrilled to hear that Schlitterbahn has shown extreme interest in having our Island be their next resort destination!!  As you can see they are still in the preliminary stages with creating a conceptual layout (ABOVE).  Although the ink hasn't dried, we are very hopeful their relationship with Asset Development Corporation and the City of Corpus Christi will solidify the plan and start the project sometime early summer 2012.  that  If you would like a hard copy of their proposed plan, please feel free to stop by and we will be glad to provide you one.  Scroll Down to See "Latest Schlitterbahn Information" from Padre Island Owners Association. Take a look at the Video Below and imagine the family fun that will be at our fingertips!!
Mr. Henry is finishing up his latest project on South Padre Island, and then will be putting all his focus on Schlitterbahn here on North Padre Island!  They plan to make our destination their premier fishing and golf  resort with guest quarters called "Tree Haus'"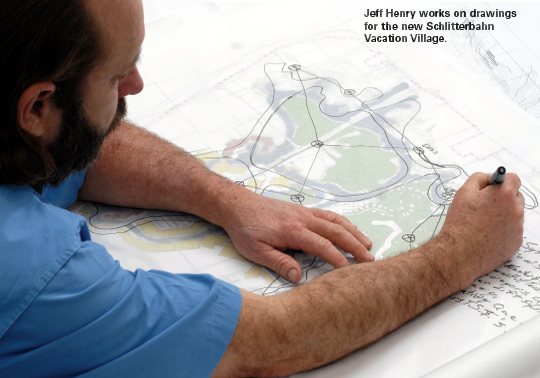 Take a Look at a Tree Haus Accomodation in the Video Below!
City Councilman Mark Scott Excited to bring Schlitterbahn to Corpus Christi Texas!
We Look forward to exciting times ahead for our little slice of heaven!!
Schlitterbahn Information
Questions and answers from the January 11, 2012 community meeting regarding Schlitterbahn
Speakers at the meeting were Jeff Henry, one of the family members who own Schlitterbahn, Paul Schnexailder, and Charlie Cardenas from the City Traffic Department. The POA editorial comments in italic were not part of the questions and answers.
WHY IS THE PARK BEING BUILT ON THE COUNTRY CLUB SITE AND NOT CLOSER TO THE WATER?
From Jeff Henry – We've learned from experience that it is better to be farther away from the water if a hurricane makes landfall. The Country Club site is ideal. We design our resorts to fit into the community.
HOW MUCH TRAFFIC WILL THE PARK GENERATE AND HOW WILL IT BE HANDLED?
The Corpus City Traffic Engineer explained that the City staff went to Galveston to meet with the Galveston City staff and to observe the traffic patterns at the resort in Galveston. The resort being planned for the Island is similar to Galveston as far as the size and the fact that it is also on an island. He said traffic is not an issue. In fact, the traffic count does not meet the threshold for triggering the requirement for a traffic impact study; however, it will be monitored as the resort opens. Jeff Henry pointed out the park hours are from 10 AM to 8 PM folks going to work would actually be going in the opposite direction from the resort goers. There will be at least three entrances to the park – 1 off Commodores and 2 off Park Road 22. Parking lots will be on the Park Road 22 side of the project. They expect 700 to 800 vehicles per day.
FROM THE POA: There is no question that we currently have traffic issues during spring break, major summer holidays, and the annual Beach to Bay run. Those of us living here realize we need to plan our trips "over the bridge" or we will be caught in waiting lines. The additional traffic for the resort will not change the need to plan ahead.
HOW WILL THE PARK AFFECT WATER AND SEWER USAGE?
In actuality, the park uses very little water. They recirculate the water. There is some loss due to evaporation, but water usage is not an issue. The same is true for sewer. There are currently some fresh water ponds on the golf course, plans are to connect them to the canal system so they will be salt water canals.
From the POA: The Island currently has a problem whereby the hydrants are regularly flushed because our water usage is not high enough and the water in the lines becomes stagnant.
WHAT LEVEL OF NOISE CAN WE EXPECT?
Noise is not an issue in any of their parks. Basically, it is no louder than the Ocean.
HOW MANY DAYS WILL THE PARK OPERATE?
The park employs young people/students so they are open from May thru August, 7 days per week and the rest of the year on weekends and holidays. The plans for this park are to cover part of it so that it can be used year round on weekends.
I LIVE ON CANADIAN MIST, WILL I BE LOOKING AT A PARKING LOT?
As explained previously, the parking lots are on the Park Road 22 side of the property.
WHAT WILL HAPPEN TO THE GOLF COURSE?
There will be a separate meeting with all of the current members of the golf course. It is an important part of this community and we are working on how to keep it operating. May only be a 9-hole course.
WHAT ABOUT CRIME? WILL THIS CAUSE AN INCREASE?
This has not been an issue. Drug dealers don't want to pay to go to a place to sell their stuff especially when they can go to the beach for nothing. Mr. Henry said they use surveillance cameras in their parking lots as well as private security to patrol. He again stressed the family nature of the park and that all adults are encouraged to watch over the kids. The Corpus Christi Police Department will adjust staffing just as they currently do for all special events.
WHAT WILL HAPPEN TO OUR PROPERTY VALUES?
Mr. Henry said he could not possibly predict. He said that an area can become stagnant without growth. The resort will increase the viability of the Island and should thereby increase property values.
HOW MANY PEOPLE WILL YOU EMPLOY?
Mr. Henry said approximately 1000 are employed at the individual parks. Most are seasonal, part-time, but there are some permanent jobs as well. Not all 1000 will be working every day the park is open.
HOW DO YOU BECOME INVOLVED IN THE COMMUNITY?
We work with charities in the local areas where we currently have parks. We offer special packages for fund raisers and encourage our employees to become involved on committees and boards of the various organizations. We believe that is being good citizens.
ARE YOU ASKING THE CITY FOR INCENTIVES?
Yes, as is the case for most developments, we are working with the City on an incentive package. The test for the City is to determine if what they are offering is offset by the increase in hotel/motel taxes, sales taxes, and so forth. We have a good working relationship going with the City and are hopeful we will get this resolved.
WHAT ABOUT FINANCING, DO YOU HAVE COMMITMENTS?
Until we have all of the items cleared by the City, we can't take the package to a lender. But, we have had a great deal of interest from various lenders and our equity position is very good.
WHEN CAN YOU START?
We hope to be open by May, 2013.
***This Excerpt Published by Maybeth Christensen, Executive Coordinator from Padre Island Property Owners Association