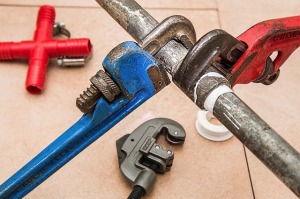 You got your home under contract! You're so excited, a buyer loves your home as much as you do! Then, inspections are set up. The three inspections typically performed on a home here are the general inspection, the pest inspection, and the plumbing inspection.
It's this last one that seems to be an inspection that, as of late, has been causing some unease among sellers.
Fear not, sellers! The truth is, this is not at all a scary or intrusive test. But it is an important one. The only way to calm a fear or unease is to be well informed. Here I'll break it down so that when the time comes, as either a buyer or a seller, this test is nothing to think twice about.
Definition: A hydrostatic test is a way in which pressure vessels can be tested for strength and leaks.
Don't let the word pressure fool you. There is a common misconception that pressure is put on your system during this test. That is far from the truth. What the plumber does is quite simple. They will find your sewer cleanout/sanitary drain pipe and insert a testball/balloon into the piping and inflate it near the perimeter of the foundation. Next, they'll simply fill the system up with water. They will then find a commode and/or shower on the lowest level and monitor the water levels. If the water maintains its level (they'll typically watch for roughly 15 minutes) then there are no leaks! IF the water happens to fall, there is indication of a leak somewhere in the system.
Leaks often occur when foundations have shifted. Because we are built on sand here on the Island, it's relatively rare to have a failed hydrostatic test as foundations move less on sand. In the case of a failed test, the next step is to find where the leak actually is. That test is slightly more involved, but still not dangerous to the system. An Isolation Test is what should be scheduled next, and this test finds the actual source of the leak. It's smart to have a different plumber perform this test to eliminate the possible suspicion of an intentional failed test to get more business (as the isolation test is far more expensive).
The entire inspection/hydrostatic test takes roughly 20 minutes. Like a ninja in the night, you may not even know they were there! Our local plumbers are knowledgeable, true professionals who are happy to answer your questions or concerns.
Note: This test typically costs around $85, and only a licensed plumber is to perform this inspection.
Did you know? A hydrostatic test is DIFFERENT than a static test. They are sometimes accidentally interchangeably used in casual conversation regarding the plumbing inspection, and there's where some confusion can occur in terms of whether pressure is put on your system during a hydrostatic test. A STATIC test is what indicates pressure, and you can do it yourself – it's a gauge that you can purchase at any hardware store that you screw on to your hose bib. Then, turn the water on and the gage will tell you how much pressure it is outputting. Don't let a static test be confused with a hydrostatic test.