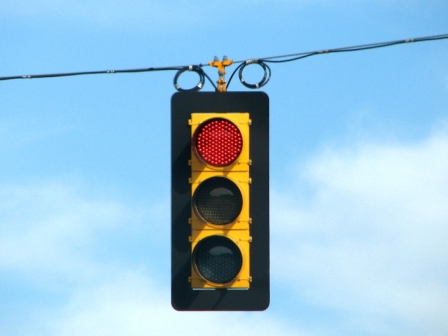 STOP! Or, you soon will be! On August 18th, a traffic light at the intersection of Aquarius and SPID was approved by the City Council.
After years of monitoring the intersection, results showed a daily average of over 33,000 vehicles during the summer months of 2012, and that number has continued to increase over the years. And on other parts of our barrier island, such as Galveston and South Padre Island, the speed limit is much slower going through their business districts.
Drivers coming over the JFK Causeway toward the island will be given a warning to the upcoming light when the traffic is backing up to the high peak of the bridge. This is meant to decrease the likelihood of collisions with the cars that are stopped at the light. There have been numerous attempts over the years to place this light, but the short distance between the intersection and the top of the JFK has been a reason for several failures to get the appropriate approval. But, city traffic engineers have done their due diligence and have given it the thumbs up.
Word on "the street" is that Turner-Busby Development, based in San Antonio, is looking to use the site on the east side of SPID near the intersection of SPID and Aquarius Street for a development called Packery Pointe Subdivision. This traffic light is simply part of their plan, and is set to be coordinated with the other lights along SPID. The light may cost up to $600,000, and will provide a convenient physical stop for vehicles to turn into this new development.
Turner Busby Development has apparently been working on the plans for the $30 million development for a few years. It will likely include a hotel, retail sites, Starbucks, small bar/restaurant, and even possibly some single family homes.  Now that Schlitterbahn is in full swing, it sounds as though the developer is more confident in beginning the project.
But, change is often met with opposition, as many residents are weary to the whole thing. The main concern seems to be that the signal could cause large traffic backups, and the new development with its possible chain restaurant(s) and commonality feel will ruin the quaint, quiet, and familiar island feeling.
Hey, if you can't beat 'em, join 'em!