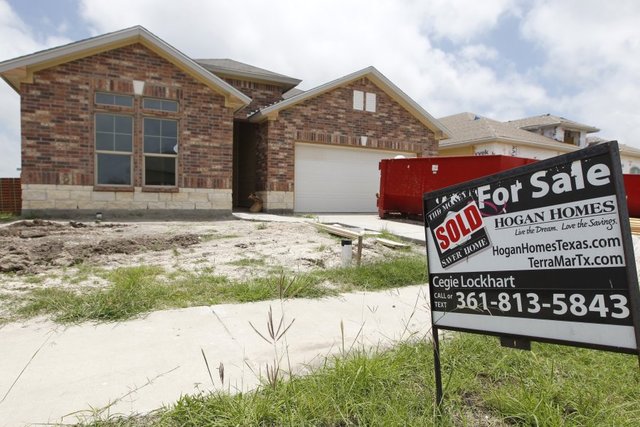 CORPUS CHRISTI – The cost of an average home in Corpus Christi will exceed $200,000 before the end of the year, economic and housing industry experts say.
The average single-family home in the city fetched $199,300 in July, according to the most updated figures provided by the Real Estate Center at Texas A&M University.
Jim Lee doesn't expect the price tag to stay there.
In fact, it'll likely inch further up before Christmas, he said.
"We've been seeing appreciation for months, but ($200,000) is a benchmark we're going to hit soon," said Lee, the chief economist at Texas A&M University-Corpus Christi. "This is a head up for next year's tax bill. It's going to go up."
He credited the upswing to a fierce surge in demand for homes, which he attributed to growth from the Eagle Ford Shale energy play.
The average price for a home in Corpus Christi spiked to a record $202,700 in May, but dropped to $197,000 the next month, according to the most updated figures provided by the Real Estate Center at Texas A&M University. It was at $199,300 in July. Lee said prices could climb as much as 10 percent by the end of the year. And that likely will mean property taxes also will increase.
"As (home) prices go up, so too do the taxes," Lee said. "Another 10 percent … will be a burden on homeowners. They need to be ready for it."
In an interview Wednesday with the Caller-Times, Lee described today's housing landscape is somewhat reminiscent of the 2004-05 home-buying market, which ended in a downturn. The difference then was the Corpus Christi housing market more closely followed the national housing trend, and was not being guided by a fertile-and-booming oil market.
Scores more residents have descended on Corpus Christi in the past two years, lured by the prospect of energy-related jobs and a cost-of-living cheaper than anything in the metropolitan areas. Economists believe as many as 10,000 jobs will spring from it during the next five to seven years.
Statewide, 81,000 single-family homes were sold in Texas in the second quarter of 2014, according to the Texas Quarterly Housing Report, issued by the Texas Association of Realtors. That represents a 1.1 percent increase from the same quarter of 2013.
A total of 2,728 homes in Corpus Christi were sold between January and July, according to the Real Estate Center, which estimated average home prices would hit $194,100 this year.
Homes also are staying on the market half the time they did three years ago. Corpus Christi's home inventory in July was such that a home will remain on the market for 4.8 months, compared with 10 months in July 2011.
Warren Andrich, president/CEO of the Corpus Christi Association of Realtors, expected more people to take advantage of first-time homebuyers assistance programs in the coming year, even for homes below $200,000. Andrich said the market may be advantageous to homeowners looking to upgrade, but may also present greater challenges for lower- and middle-income homebuyers, who are finding it increasingly hard to purchase.
There are 1,800 to 1,900 houses available in the city, compared with 7,300 homes on the market three years ago. Homes that are considered affordable — because they are listed for a selling price between $125,000 and $160,000 — are scarce in Corpus Christi; there are roughly 200 of them available.
Lee said homeowners had to do a lot of soul searching during the 2004-05 housing downturn. At issue was whether to dump their homes ahead of what would become a major national housing crisis and a global economic recession.
His advice for those tempted to sell while the price tag climbs?
"It's definitely a seller's market. Definitely," Lee said. "But if you sell, where are you going to go? No one knows how long the oil boom will last."
via Caller Times