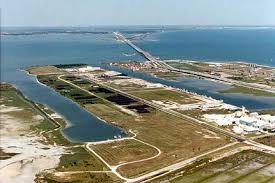 On Thursday, February 13th, at the Padre Island Business Association lunch, Jeff Shea, Site Manager for M&G Chemicals, spoke to update us on the M&G Chemicals PET/PTA Facility.
The privately owned company has locations all throughout the world, but this site here on Port Corpus Christi, Inner Harbor (across from Flint Hills Resources) will be the largest plant yet.
WHAT WILL THE PLANT PRODUCE?
The plant produces polyethylene terephthalate (PET for short), which is a safe and easily recyclable plastic polymer used mainly for containers of all sorts due to its superior water and moisture barrier quality. It will also produce the PET key raw material, purified terephthalic acid (PTA). Production is estimated at 1200 KMT/yr (kilometric tons per year) of PTA and 1000 KMT/yr of PET. This process is FDA approved, and a $1 billion investment.
CO-GENERATION PLANT
This means the plant intends to produce its own electricity. They will do this by using natural gas combustion for electricity, steam and heat. This is efficiency by using "waste." Water usage is also at the forefront of the plant, as its projected to use approximately 6 million gallons per day. So M&G plans to generate their own water so Corpus Christi doesn't suffer from drought due to the plant. They will bring in water from the Gulf, pull out the salt, and then put the brine back into the ocean. The technology used here is called "reverse osmosis membrane."
WHY CORPUS CHRISTI?
According to Shea, "you guys got it all!" (which we already knew J). Corpus is located on the Gulf, it has easy access to three railroads, there are six refineries around, deep-water access, and there is Port access to the Bay and Viola Channel.
BENEFITS TO CORPUS CHRISTI?
This is thought to be an international investment to the area in that it holds the possibility of attracting upsteam and downstream industries as a result of the M&G investment, as this is a company with a proven track record of renewable resources. Not to mention, it will generate many jobs.
LET'S TALK JOBS AND TIMELINE
Jobs:
250 direct full-time employees
700 indirect employees
3,000 construction workers at its peak (5 million man hours!)
Timeline:
Summer 2014 – Federal Air Permit received
2nd Quarter of 2014 – Construction begins
4th Quarter of 2015 – Construction completed
1st Quarter of 2016 – Plant commissioned and operational