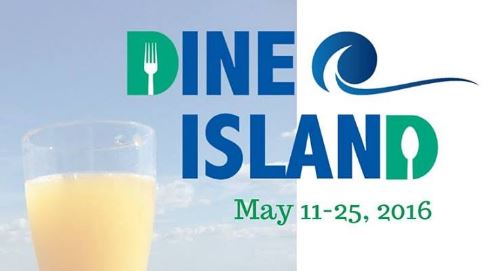 Here on the Island, we all speak one common language, and that is FOOD! It's something that since the beginning of time has brought people together – we have holidays for food, special rooms in our home for making food and eating food, and food is a very universal topic of conversation.
For those of you who are familiar (or, rather, unfamiliar) with Dine Downtown, this event, hosted by Marina Arts, went on from January 18th-31st. It featured some of Corpus Christi's best restaurants who were able to offer a three course value-priced menu. Residents bought tickets, dined, had a wonderful time, and were able to check out local eateries they may not have been to prior.
It was such a huge success, that Island resident, Debbie Noble, is bringing this concept right to our front doors! But her model is slightly different.
Sponsored by the Padre Island Business Association and the Padre Island Moon, Noble is bringing us together to break bread. This is the first restaurant-type event the Island has ever seen. Restaurants all over the Island have signed up to offer unique three-course dining experience at value price. This does not include beverages, tips and taxes.
The idea is to get both Island residents to try the local fare they haven't yet made it out to, and to also encourage non islanders from all over the Coastal Bend to come see how special our restaurants are!
"We are so excited to show off our great Island restaurants to the rest of the city and give people a reason to come OTB," Noble exclaims!
Currently, participating restaurants include: Veranda, Costa Sur, Boathouse, Angry Marlin, Padre Pizzeria, Island Time Sushi, JB's German Bakery, A La Mode Gelateria, Mikel Mays, Scuttlebutts, Surfside Sandwich, Texas Mesquite BBQ, Black Sheep Bistro, Dragonfly, and Docs. Many will likely offer drink specials or signature drinks for the meal.
What's best? Every meal that is sold, the participating restaurant gives $1 that goes toward the Corpus Christi Food Bank. Padre Pizzeria is so excited that they are donating $2 for every meal! According to the Food Bank, every dollar allows them to provide 7 meals. Talk about a delicious event for a worthy cause.
Coastline Properties has also graciously offered to match the money from the restaurant that does the most dine island meals. "Cheri Sperling is an instrumental member of the community and wanted to get involved as well," Noble says.
Mark your calendars, and get ready for two weeks of marathon meals! The hope is to make this an annual event, so mangia!