Welcome to the "New Coast, Now!"
mT=f(P2 + t + s + a)
But what does this mean?
Motivated team = function (Passionate People + training + strategy + accountability)
This is Legacy International Resort Properties' winning formula for their brand new resort, Palmilla Beach Resort and Golf Club.
Designed by award-winning developers Bart Koonz and Red McCombs, this community has it all…Beach. Bay. Golf.
Philip Jelufka, President and CEO of Legacy International, outlined the resort's 5 Key Differentiators at a discussion hosted by San Jacinto Title Company on May 14, 2014 at the Comfort Suites on Upper Padre Island. They are:
World-class golf course
Expertise in financing and world-class management and developing
Beach. Bay. Golf.
Product offering – homes, condos, hotel, etc.
Being a part of New Coast. Now.
This 700-acre resort is designed to be pedestrian friendly, with a grand opening date of August 2, 2014.
June 10, 2014 Coastline Properties toured the site. Tiffany Pritchard, Sales Executive, has shared her unmatched knowledge of the resort and outlined each detail, big and small!
This walkable community is made up of Village North, Village South, and the Marina (refer to photo below). The Marina, northwest of Village North (Map1, in orange) will house 150 uncovered boat slips on the bay side. Adjacent to the marina is the intercoastal waterway and close proximity to the airport.
Map 1 Palmilla Beach Resort and Golf Club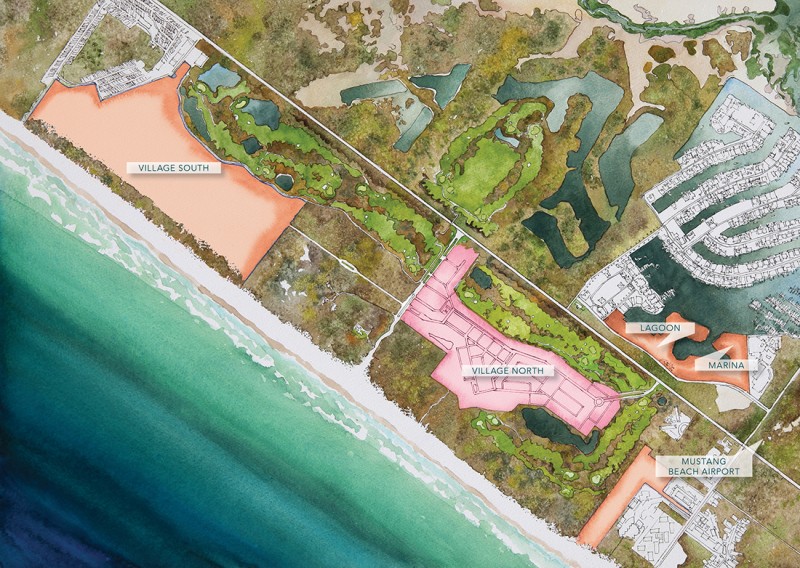 Across 361 then is Village North. The green plots (Map 2 Picture Below, Village North) you see are home sites – there are a limited number available. These range in price from $195,000 – $815,000. There are currently 4 preferred builders, but yes, you can bring in your own. By the end of summer, 8 homes will have broken ground. Once you purchase a home site, you have 2 years before you are required to start construction.
Map 2 – Palmilla Beach Resort and Golf Club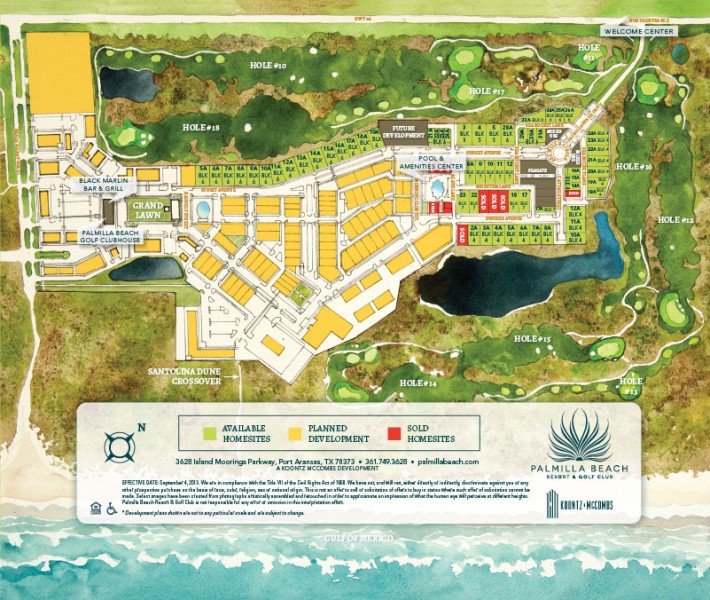 Three of the 4 builders are:
Keystone Company – 3 bed/4 bath, 2,826 sq. ft.
Conner Coastal Homes – 4 bed/4.5 bath, 2,504 sq. ft.
T. Kypke Builder Inc. – 4 bed/4.5 bath, 2,840 sq. ft.
Buckwild Builders – 4 bed/4 bath, 2,942 sq. ft.
The vertical village concept will keep the resort pedestrian friendly and architecturally consistent. Each home must have a minimum of 2 stories, but some home sites allow for a 3.5 story maximum. Homes that dead-end will have towers atop them to further enhance village feel and 'curb' appeal.
Want to use your home as an investment opportunity? No problem – there is on-site management for homes in the rental pool.
The yellow blocks you see (Map 2) are for future development, but "yet to be determined" regarding what kind. The resort take its cues from the market to identify what it wants. More homes? More condos? Do you have a good idea? Feel free to write in and give us your own input!
Then you'll see the grey area (Map 2), where Seagate Condominiums will go. Set to be finished in 2015, the condo is "breaking ground" in June (wait, that's now!!), and will be going vertical in the next several months. These units are also available for sale, and will be located near the entrance of the village once you pass the Welcome Center. The L shaped condominium will be 4 floors high, totally 9 different floor plans to choose from. There will be 18 condos in total, ranging between $365,000 to $985,000.
Floor One:
Juniper Floor Plan – 3 bed/2 bath, 1,524 sq. ft., patio 143 sq. ft.
Jasmine Floor Plan – 2 bed/2 bath, 1,372 sq. ft., patio 168 sq. ft.
Lantana Floor Plan – 1 bed/2 bath, 1,040 sq. ft., patio 179 sq. ft.
Floor Two:
Mesquite Floor Plan – 3 bed/2 bath, 1,646 sq. ft., balcony 180 sq. ft.
Mulberry Floor Plan – 2 bed/2 bath, 1,357 sq. ft., balcony 180 sq. ft.
Myrtle Floor Plan – 2 bed/2 bath, 1,407 sq. ft., balcony 256 sq. ft.
Floor Three:
Palmetto Floor Plan – 3 bed/4 bath, 2,817 sq. ft., balcony 344 sq. ft.
Retama Floor Plan – 2 bed/3 bath, 1,971 sq. ft., balcony 189 sq. ft.
Floor Four:
Wisteria Floor Plan – two stories, 3 bed/4 bath, 2,271 sq. ft., 3rd floor balcony 545 sq. ft, 4th floor balcony 143 sq. ft.
* The third and fourth floor(s) have 6, 2 story units.
But what about fees?
Home sites
$3000 per year Homeowners Association (HOA) fees
Seagate Condos
36 cents per square foot on master HOA fees
$1200 per year for pool and amenities fees
So now that we know about the 'designer' living here, what does the resort offer in terms of amenities and entertainment?
Golf: This 222 acre, 18 hole "gold" course is (as of August, 2013) managed by internationally renowned Troon Golf, and designed by Award-Winning Arnold Palmer Signature Courses. The grass on the tees and fairways are Seashore Paspalum. A fine choice due to its tolerance to heat, salt water, and dense root system(s), which provide desirable turf-like characteristics and is the same grass used on the Augusta course. Although this will still remain a public course, resort owners will be privy to some perks (perks program is currently in the works). The clubhouse has a new restaurant named the Black Marlin, which boasts sophisticated, yet fun and fresh coastal dishes. The outdoor seating is set up with hanging lights, a stage, and even a bar 3 stories up overlooking the gulf.
Grand Lawn: Next to the clubhouse and Black Marlin, there will be a grand lawn, which can be used to host events.
Hotel: This will likely be a Hyatt boutique hotel, meant to provide luxury to those coming to spend a relaxing weekend away, likely with a spa and a pool. But it will also have a conference room and both casual and fine dining. Soon to be an overnight golf destination sensation, they're expecting an influx of golfers to come and stay a night or two. A hotel on the premises is the convenience they'll seek.
Pool: A brand new pool, bar, and amenities center (located near the home sites and Seagate Condos) is set to open this summer, equipped with loungers, umbrellas, and cabana boys serving chilled grapes. OK, I made that last part up, but there WILL be cabanas.
Beach: It's right there!! Perfect for fun in the sun, waves, shelling, and birding. Private beach access with dune crossover will be built to provide private beach access.
Although the developers currently have their hands full concentrating mainly on developing Village North, Village South and the Marina may not be far behind – it will be exciting to see it all unfold.
Arnold Palmer himself quotes this project as an "enthusiasm I haven't felt in a while." That's good enough for me!
Please don't hesitate to contact me at 847-830-2087 or whitney@coastline-properties.com for additional information. The Palmilla Beach Resort Welcome Center can also answer your questions at 361-749-3628. Or simply visit palmillabeach.com and click around!
Great "New" Listing Below
We're sorry, but we couldn't find MLS # 225309 in our database. This property may be a new listing or possibly taken off the market. Please check back again.