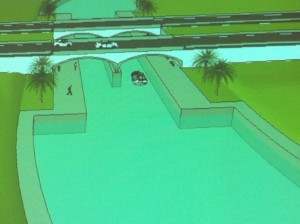 Design plans for the proposed Park Road 22/SPID Water Exchange Bridge will move forward before final decision is made on permitting by the Texas Department of Transportation, which means work on the bridge could begin much earlier than expected.
Until last week City Engineers did not plan to begin final design work on the $8.1 million bridge until the TxDot ruling on permitting which is not expected until at least the fall of 2013; this meant that final design of the bridge could not possibly be done until well into 2014, delaying the bridge's construction and causing potential delays in the digging of the proposed IslandWalk Canal to connect the Schlitterbahn waterpark to amenities including a marina, on the east side of the highway.
That logjam was resolved last Friday when City Manager Ron Olson directed the city engineering staff to proceed with the detail
design of the bridge while awaiting the ruling from TxDot on permitting, which is expected within the next month and will likely be
followed by a public hearing.  Olson's move clears the way for work on the canals to begin much earlier.  Under his existing permits developer Paul Schexnailder must build water exchange culverts under the roadway connecting the new canal on the west side of the
road to Lake Padre on the east.  However, last year the Corpus Christi City Council approved the use of $8.1 million in bond money to instead replace the culverts with the bridge which would allow for boats to pass underneath as well as pedestrian and golf cart paths.
The current design would allow for water passage through a six-foot deep channel and would include walking and cart paths on each
side along with about a 14-foot clearance from water level to the bridge for boat passage. It would take about one year to complete and
during most of that time traffic on SPID would be reduced to one lane each way As the city moves forward with the final design of the bridge all required permit work is proceeding on the IslandWalk Canal.
by Dale Rankin Island Moon Newspaper