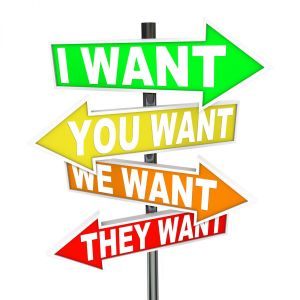 Whether you're trying to get the best price at the flea market, ask for a higher salary, or buy a new car, having good negotiating skills is important. Luckily, during a real estate transaction, you have a hired professional to do the tough stuff for you! Whether you are buying or selling, your agent should be representing your needs and wants through this fine art of negotiating.
Some may believe that negotiations are "all or nothing." That one party wins over the other. This could not be further from the truth. While the goal of negotiation is most certainly getting what you want, the fact is that the best deals incorporate terms from both sides.
First, think about what you want to achieve from the process. Make a list of what you want from the negotiation and why. This helps determine what would cause you to walk away so you can build your strategy within acceptable terms. Try, also, to understand what your counterpart's motivations are as this is equally as important. By studying the other side's goals, it may help you frame your own by realizing that there's a solution for you both. The single most important tool you and your agent have is preparedness. Communicating with each other the main goals and why they're the goals gives your agent the best negotiating power there is. Follow these steps:
1.      Establish a fair sales price. Your agent should run a comparative market analysis (CMA) for you to assess what a fair asking price is based on other sales in the area.
2.      Establish what you can afford. If you're buying, your agent should be able to help you with this a bit, and if you're working with a lender they will be invaluable here. If you're selling, what is your bottom line?
3.      Decide what other things would be a deal breaker. Price is typically the most important factor. However, it may also be a deal breaker if you're selling and you cannot afford to pay the buyer's closing costs at their request, or you're the buyer and your insurance requires a windstorm certificate that the home doesn't have.
4.      As a buyer, when it comes to inspections, negotiating repairs can become just as important as presenting the offer itself. If the home you're seeking isn't advertised as being sold "As Is" then you likely have some negotiating powers when it comes to repairs.
5.      Try not to get emotional. This is a tough one as a home is personal. And if you get too emotional, you may make an exception to your goals. But your agent is there to represent you, your goals and to make it about business so this doesn't happen.
From there, your licensed Real Estate Agent should be able to clearly communicate your desires.  It's your agent's job to ensure you are represented correctly, fairly, and your voice is heard! It's all about collaborating to meet both ends, making it a "win/win" situation.
What should you look for in an agent? These characteristics may be beneficial: An active listener, someone with a reputation of getting along with others, someone with a mild-mannered and optimistic personality, and a clear but firm communicator.
So sit back, and let US work for YOU. If you're feeling like your agent is trying too hard to convince you to forgo your main goals, then perhaps it's not the right fit. There's a solution to every problem. Think outside the box, discuss rather than argue, and don't forget, it never hurts to ASK!