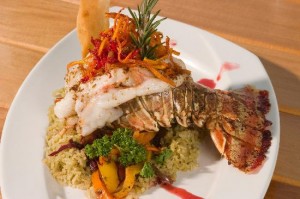 North Padre Island's proximity to the Gulf Coast is often cited as one of the reasons for moving. The affordable homes, mild temperatures, local school choices and active lifestyles are just a few of the reasons why more families are choosing "The Island" as their full-time home.
Dining choices on North Padre Island and the surrounding communities are just as pleasing, with something sure to please everyone. Here are a few of our favorites:
Dragonfly – Dragonfly would certainly be right at home on any street in the South of France. Locals and visitors to Upper Padre Island alike are delighted that Chef Dominique and his staff offer fresh, local cuisine with a decidedly International flair. Try the Tomato Basil Soup or any of the salads – they're well-loved favorites and don't skip the Creme Brulee for dessert. Hours vary depending on the season and specials change daily – but they're always amazing.
Curacao Blues – Dragonfly's little sister is all grown up. Serving tapas (small plates) of similarly prepared deliciousness, Curacao Blues also offers an eclectic beer and wine selection, and added "family-style" seating.
Snoopy's – The local fresh-fish joint. Counter service and cash-only make this place an efficient haven for great fish and chips, oysters, shrimp and sides. It needs to be efficient – it's very often the busiest place on the Island, with the best view of the sunset over the Laguna Madre. Everything is battered and cooked to order so be prepared for a short wait, but it's definitely worth it. In the summer be sure to visit "Scoopy's" next door for ice cream!
Doc's – Next door to Snoopy's is the fine dining choice, Doc's. A full bar, weekend entertainment, hand-cut steaks and innovative seafood selections keep Doc's patrons coming back week after week. Try the stuffed flounder – trust us, you'll have enough for the next day's lunch, and the freshly prepared and never frozen seafood stuffing is sublime.
Padre Pizzeria – Islanders know that they've got it pretty great when it comes to pizza. Locally owned Padre Pizzeria is gourmet pizza through and through. Hand tossed crust, fresh ingredients, perfect spices… and they deliver, too! Nothing beats an Amore Roma, with a caesar salad after the long 15 minute commute home from work.
Sushi Bar – We all wondered if Islanders would embrace a gorgeous, upscale sushi bar here on Upper Padre Island – after all, being a fishing village of sorts, most of us think of sushi as bait! We're all delighted that Sushi Bar is now world-famous for the freshest, most flavorful rolls, as well as the perfect presentation and taste – and we're proud that they've help put Upper Padre Island on the culinary map.
North Padre Island offers locals and visitors a wide variety of dining choices – these are just a few of our favorites. If you have a favorite tell us about it in the comments!
Writer: Chelle Honiker-Yarbrough