When Mohsin and Lori Rasheed moved to Padre Island three years ago their plan was to retire and take things easy. But that plan has taken a detour as last week Lori purchased a franchise from the Independent Grocers' Alliance (IGA) and are moving forward to have a grocery store open on Padre Island in the next nine months.
"Every time we asked people what we should put in the shopping center we are building they always said, a grocery store," Mohsin  said this week. "We are part of the Island community now and Padre Island wants and needs a grocery store, so we are going to build one."
The Rasheeds have been married for 39 years with three kids and during that time have built, owned, and operated restaurants and shopping malls in Sacramento, where they owned 38 restaurants, and Houston where in the last fourteen years they have built 18 shopping centers, three of which they still own. The center they are building on Padre Island is located adjacent to Seashore Middle School along SPID, where the earthwork is currently underway. As designed it will have a total of 33,500 square feet, with the grocery store occupying 18,000 square feet and another 6000 square feet to be a restaurant, with a tenant yet to be determined. There are also eight retail spaces.
They were nearing a final agreement with the Sprouts chain until a few weeks ago when Amazon announced its purchase of the Austin-based Whole Foods Chain.
"Everything in the grocery business just came to a stop after that," Mohsin said. "There is no movement in that business right now. So Lori just decided to buy an IGA franchise and we will do it ourselves."
Each IGA store is its own franchise and the local owner decides what to stock.
"With 18,000 square feet we won't have ten kinds of ketchup," Lori said. "We will only have a few and we want to know from Island residents what brands and items we should stock. We will stick strictly to groceries, we won't be competing with CVS or other existing stores, we are only going to sell groceries."
Plans call for 32 parking spaces along the south edge of the center's parking lot for parents picking up kids at the middle school.
"I know there has been talk of a grocery store on Padre Island for a long time," Mohsin said. "But this is going to happen."
With permitting and funding in place, it looks like after decades of wishing, Islanders are about to have a place to buy groceries without having to go OTB.
"This is going to be a first-class operation," Mohsin said. "We are going to do this in a way that Padre Island will be proud of."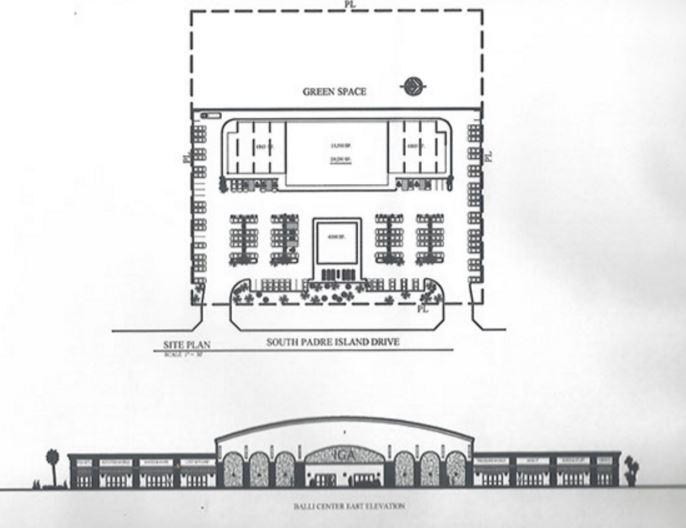 Story from Island Moon Newspaper